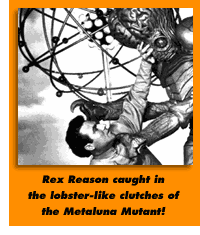 REX REASON, STAR OF "THIS ISLAND EARTH"
Rex Reason clearly enjoys the nostalgia that surrounds his best known film, This Island Earth. "In the past year and a half I've gone to four autographing conventions," he says. "I was just overwhelmed by the people's reaction." The film's innovative Technicolor depiction of scientists waging a civil war in space is still held in high regard by genre fans. Reason, who has long since focused his energies on other endeavors, conveys genuine surprise that his film work is remembered so affectionately. "I was 25 years old when I did This Island Earth. I'm a different guy, now. You grow up after so many years."
As a young actor, he breezed through movies of all genres -- western, drama, space opera -- at a breakneck pace, and Reason recalls his days as an aspiring matinee idol as something of a passing fancy. "My whole career was fun," he laughs. "It was in and out. At 22 years of age, I got a lead in a picture called Storm Over Tibet. We shot it in nine days. From then on I just went from one contract to another."
His only other fright film appearance was a supporting role in The Creature Walks Among Us, the limp third chapter of the Creature From the Black Lagoon saga. But it is This Island Earth for which he is undoubtedly remembered best. "It was my third picture with Universal," he recalls, noting that the subject matter didn't strike him as outlandish. "I thought that This Island Earth sounded plausible -- because I believe in science fiction."
Ironically, it wasn't until stardom seemed imminent that Reason decided to bow out of his film career. "I'd kind of drifted through the business until I found that they were really planning to launch me," he recalls. "I realized that I didn't want to be an actor, so I left. I bought out of my Warner Bros. contract."
At 71, his real estate business prospering, Reason relishes the nostalgia that attends his former career, enjoying the fact that people remember his work. "Every day," he laughs, "I jog around the block. The guy that lives three doors down the street stopped me the other day." Reason had apparently been the subject of a radio call-in show. "Hey Rex!" the neighbor shouted. "The other morning on the radio somebody asked if Rex Reason were dead." The neighbor rushed to a phone and called the station. "No, he's not dead," he assured them. "He's in great shape."